What We Do
The Friends of the Hudson Area Library is an organization of dedicated volunteers that exists to strengthen the Hudson Area Library through:
Financial support
Advocacy
We provide significant and consistent financial support to the Library through our bookstore, online sales and book sales.  The Friends is involved in many advocacy projects throughout the Hudson community.  We are also a social organization that fosters a connection to the Library with the aim of providing engaging volunteer opportunities to our members in support of the Library and our community.
Browse our page, become a member, and find or create a volunteer opportunity that fits your interests.  The Friends is a fun and flexible group of community members that shares your interest in books, supporting the Library and connecting with our community. New members are always welcome. Join now!
We meet at 5:30 pm in room 219 at the Library, every 2nd Thursday of every other month (January, March, May, July, September and November).
If you have any questions, would like to share ideas, or need assistance, please contact us at hudsonlibraryFRIENDS@gmail.com
Support the Friends
Donate items
Thank you for considering the Friends of the Hudson Library for your book donations. Your donations of gently used books, audiobooks, and DVDs are gratefully accepted and may be dropped off at the circulation desk. Receipts for your donations are available.
Most donated books are sold in the bookstore or at book sales. Some are used to expand the Library's lending collection or to replace worn books. Those of local interest may be placed in the Nancy L. Hawkinson History Room on the second floor of the library. Higher value books are listed for sale online at abebooks.com.
We always try to direct books to those in need within and beyond our community. If you know of a charitable organization or group that needs books, please let us know.
Book Donation Guidelines:
We can accept material that has been inspected by the owner, is in 'like-new' resalable condition, and is delivered in clean boxes/bags/totes. Materials must be donated in person at the circulation desk during library hours. Please do not leave donated material in the library book drop box or outside the library.
Items we ACCEPT include:
Hardcover and paperback books
Commercially published DVD's and audiobooks
Business, health/fitness, self-help, political and travel books must be 5 years old or newer
Materials of local historical interest may be donated to the Nancy Hawkinson History Room at the Library
Items we DO NOT ACCEPT include:
VHS, CDs, or cassette tapes
Encyclopedias, dictionaries, Reader's Digest Condensed Books, Bibles, textbooks, atlases, professional journals and magazines
volunteer
There are many opportunities to volunteer and support the Library, the Friends, and the Hudson community!
Some ways to get involved:
Bookmark Contest for 4th Graders
Bookstore: Help with sorting, pricing, and shelving of donated books
Book Sales: Help with set-up, take-down, sales, and publicity
Board Member: Assist with planning, promotion, and staging of Friends activities
Hudson Backpack & Food Program: Help put together monthly flyer and pack library calendar
Online Sales: Look up values of donated books, and enter higher value books online
National Night Out: Assist with spreading the word about the Friends and the Library
Halloween Trick or Treat Trail
Don't worry about your schedule or experience level. We can always find a way for you to help that works for you!  The Friends will provide a mentor to show you the ropes and help you decide how you can best share your talents!
Get Involved
To find out more about how you can get involved, or if you have any questions, please contact us at: hudsonlibraryFRIENDS@gmail.com
2023 bookmark contest winners
Friends of the Hudson Area Library awarded Certificates of Appreciation to the 2023 bookmark contest winners. The ceremony took place at Weitkamp Park, and the winners received a bag filled with markers, Book Bucks to be used in the Friends Book Store, and Buddy's Bakery gift certificates.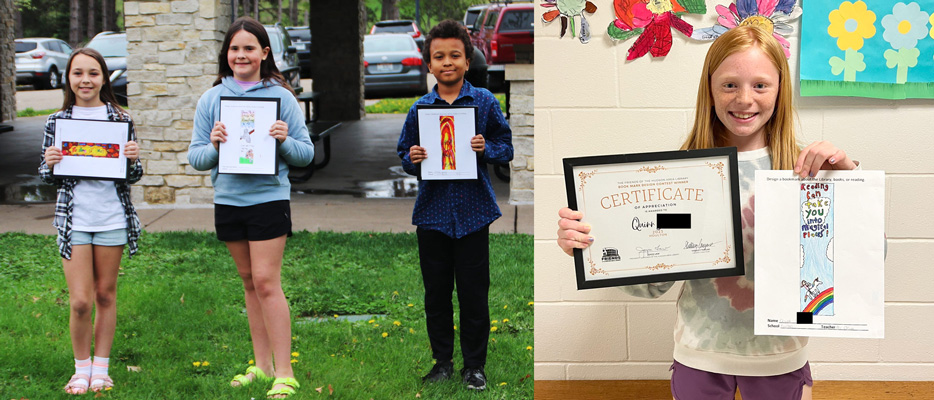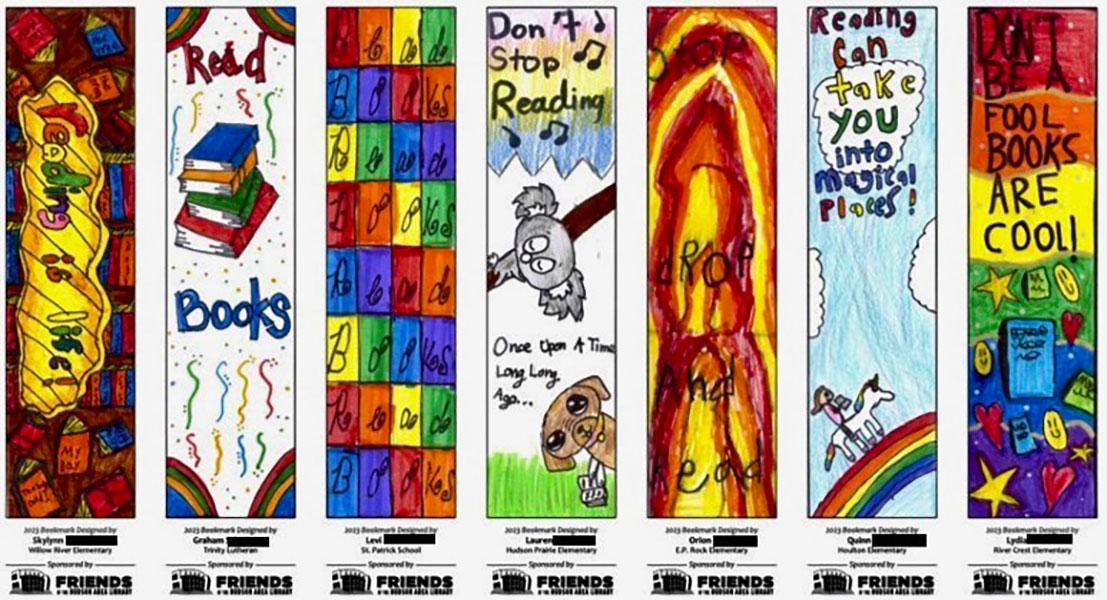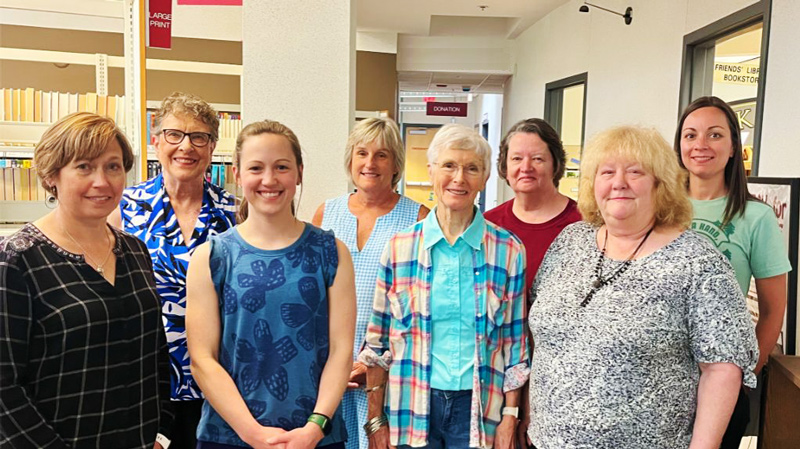 Left to Right: Heather, Joyce, Mackenzie, Cindy, Donna, Char, Amy and Alisha
Meet Our Board Members
President | Joyce Law
Vice President | Cindy O'Connor
Secretary | Donna Miller
Treasurer | Mackenzie Rowekamp
Book Store Coordinator | Heather Lacke
Members at Large | Alisha Cunningham | Char Kruger | Amy Thurston
Visit Our Bookstore
The Friends of the Library Bookstore is maintained entirely by dedicated volunteers and is always open during library hours.
located upstairs in room 215
prices range from $0.50-$2
books of all genres
DVDs and audiobooks
vintage and specialty books
Free Books
Free books are located on the metal shelves against the wall outside the store.
Subscribe
Subscribe to our Facebook page to see announcements for volunteer opportunities, in-store sales, and our semi-annual book sales.
No time to browse?
Look at our QUICK PICKS shelf for recommended reading. Books may have a brief review tucked inside on a bookmark. Feel free to review any of your favorites you find in the store and add them to the shelf.